PONDERFUL aims to understand how pond ecosystems can contribute for resilient landscapes. This was the main theme of ASLO Aquatic Sciences Meeting, held in Palma, Spain, last June. ASLO – Association for the Sciences of Limnology and Oceanography, organised a six-days event to discuss the resilience and recovery in aquatic systems.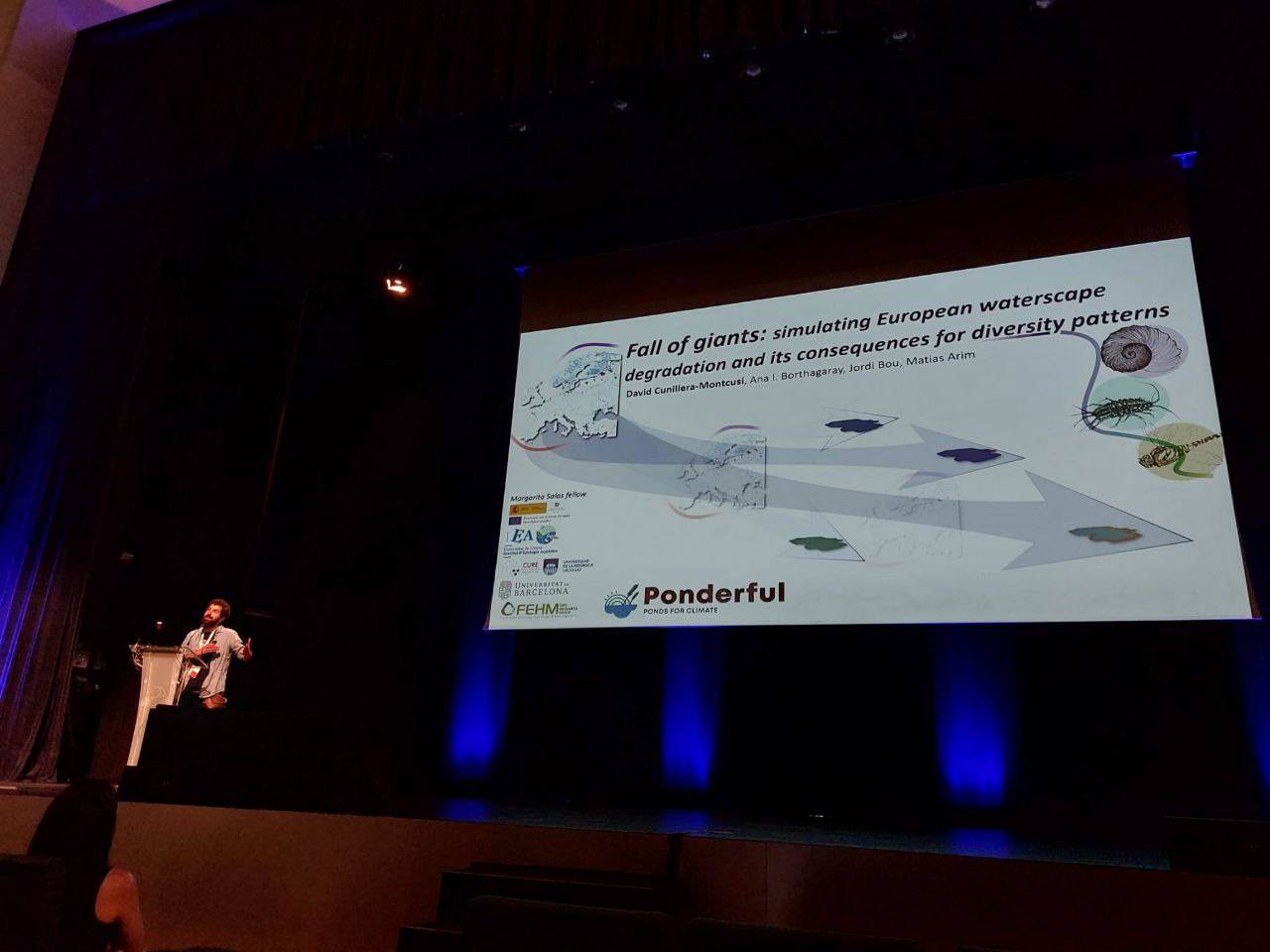 Researchers from PONDERFUL got together to share their recent work on landscape degradation, where they explore the potential trends in diversity in response to freshwater degradation across Europe. The PONDERFUL researchers from Uruguay gathered several satellite and biogeographical information to assess how the degradation of the landscape caused by the loss of habitat but also the loss in connectivity would impact diversity loss rates. Large differences were observed between European biogeographic regions with some of them rapidly collapsing and others being more resistant to waterscape degradation. The obtained results identify which of these regions are more sensitive to waterscape degradation which is a valuable information to management of freshwater biodiversity at broad scales, improving adaptation and resilience to human-derived changes.
If you wish to know more about PONDERFUL participation in ASLO, you can download the posters that our team presented during the event below.
Colonization process in new creation Mediterranean coastal lagoons, by A. Equisuany, D. Boix, D. Cunillera-Montcusí, J. Sala, X.D. Quintana & S. Gascón.
Ecological restoration promotes zooplankton network complexity in Mediterranean coastal lagoons, by D. Hernández, D. Cunillera-Montcusí, M. Antón-Pardo, M. Cañedo-Argüelles,
M. Bas-Silvestre, J. Compte, S. Gascón, X.D. Quintana & D. Boix.
Environmental drivers of litter decomposition in Mediterranean ponds, by L. Martín, A. Pastor, M. Cuenca-Cambronero, M. Antón-Pardo, J. Hidalgo, M. Florit, S. Brucet, D. Boix, & A.M. Romaní.