Practitioners and members of the public will soon be able to learn about Nature-based solutions at pondscapes across Europe and South America. The PONDERFUL consortium is producing 16 leaflets focusing on PONDERFUL results and success stories at PONDERFUL DEMO-sites in eight countries.
Eight DEMO-sites were chosen for the PONDERFUL project, encompassing 20 pondscapes where Nature-based Solutions (NbS) have been successfully implemented.
Through PONDERFUL research, we now have strong evidence of good practice for NbS implementations in these DEMO-sites. The consortium is developing a leaflet for each pondscape to share the results and a selection of success stories. These will be made available early 2024 on the PONDERFUL website.
The success stories include for example:
Reducing flood risk at Lystrup pondscape in Denmark and Imrahor (Ankara) pondscape Turkey.
A pondscape as water reserve for sustaining extensive cattle farming in Uruguay.
The coexistence of natural habitats and tourism at La Pletera in Catalonia, Spain.
The development of a nature education centre in a city centre in Schöneiche (Berlin), Germany
Developing multifunctionality at the pondscape scale in Rhône Genevois, Switzerland.
Implementing protection status promoting biodiversity and infrastructure for recreation and nature observation at Tommelen pondscape in Belgium.
Reducing the agricultural pressure on the landscape to improve water quality and habitats at Albera temporary ponds in Catalonia, Spain.
Creating and managing clean water ponds for biodiversity and for people in a farmed landscape in the UK.
In total, around 40 success stories have been developed for the leaflets. Some of these will also feature in the PONDERFUL technical handbook.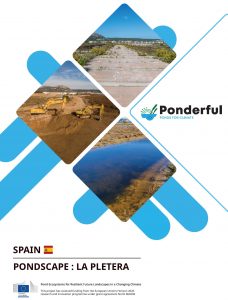 Dr Beat Oertli, Professor at the University of Applied Sciences and Arts Western Switzerland said: "Through PONDERFUL we are gaining insights on how pondscapes can provide Nature-based solutions as we adapt to climate change. Our research is showing the multiple benefits of high quality pondscapes for biodiversity and people."
"These leaflets bring together success stories from a diverse range of sites across Europe and South America. We hope they will not only be informative but will also inspire landowners, managers and practitioners to to replicate the good practices and create and manage pondscapes to provide Nature-based solutions."